CATERING IN NORTHERN VA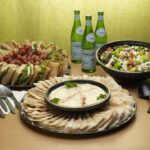 Do you live or work in northern Virginia, or are you planning to cater a special event in this area? Are you looking for delicious but affordable catering services with great food everyone will love? Try Cafesano's unique Mediterranean and Italian catering in northern VA. We'll deliver fresh, flavorful food (see our catering menu) right to your business, home, or special event throughout northern Virginia!
Our Catering Locations
Cafesano provides catering to the following areas in northern VA:
Need Catering Outside of Northern VA?
No problem! Catering to other nearby areas is available upon request. Please call us to discuss your needs and make arrangements with one of our catering coordinators at 703.391.2100.